location scooter 125 cc Premium
Scooter 125 Premium HONDA PCX 125 –
Modèle 2017
Ideal for two adults, le scooter 125 cc Honda PCX is sufficiently powerful, While remaining comfortable and handy. Perfect to take you as a duo for a ride along the coast. Du Lavandou à Ramatuelle, passing through Cavalaire and La Croix-Valmer, il ne craint pas les kilomètres.
Profitez du stationnement gratuit pour les scooters sur les parkings des plages de Pampelonne et de Saint Tropez et une fois votre journée plage terminée, avoid the traffic jams and glide onwards to your restaurant in tranquility ! Son poids contenu ainsi que son petit gabarit sont les atouts indéniable de ces scooters 125.
Nul besoin d'être un motard aguerri pour apprécier les atouts du Honda PCX, bien qu'une expérience en deux roues soit tout de même recommandée. De plus, ces scooters 125 cc sont faciles de prise en main et conviennent aussi bien aux hommes qu'aux femmes.
Caractéristiques
Moteur 4 Temps , faible consommation mais ne sacrifiant rien à la puissance, avec échappement catalysé. Faible gabarit et faible hauteur de selle .
Driving licences
Avec un car driving license (B) + a training of 7 hours in a driving school . Ou avec un permis B avec une date d'obtention antérieure au 1er mars 1980. Ou avec a motorcycle license (A).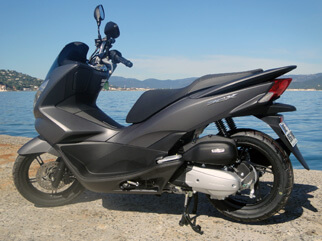 All our rental vehicles are provided with : helmets, 1 paire de gants, security chains, third party insurance, unlimited mileage and can be delivered to you.