Hire scooter 50 cc – Tarifs de location
Usable by anyone over the age of 18 or with a car driving licence, or with a AM license (formerly BSR) for the youngest (born after the 01/01/1988).
Compact and handy, le petit gabarit d'un scooter 50 cc allows him to sneak in traffic jams. Avec son plancher plat il accueillera vos sacs de plage et ramènera vos courses à la maison.
The scooter 50 cc est plutôt adapté à de petits parcours autour du Golfe de Saint Tropez : Gassin, Grimaud, Ramatuelle, Port Grimaud, la Croix-Valmer, Cogolin ou Sainte Maxime.
Little bulky and lightweight, you will have no difficulty in finding a parking spot in the narrow streets of Saint Tropez (and for free!).
Piaggio Zip is a small scooter 50 cc facile à prendre en main et très agile mais plutôt adapté à une conduite en solo bien qu'occasionnellement bi-place.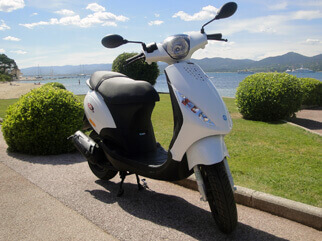 All our rental vehicles are provided with: helmets, security chains, third party insurance, unlimited mileage and can be delivered to you.