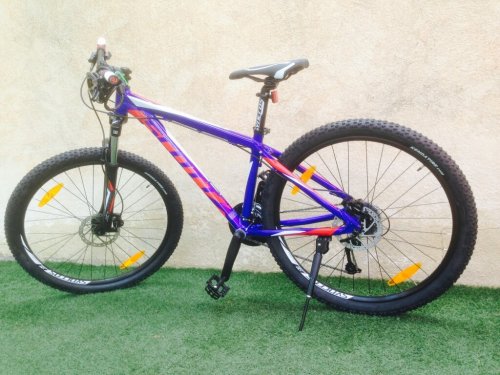 For the more sporting amongst us, nos VTT SCOTT ASPECT 750 et VTC et SCOTT SUB CROSS 40 MEN vous permettront de sortir des sentiers battus et de découvrir des panoramas à couper le souffle ! L'Escalet, le Cap Camarat sont des lieux magiques à Ramatuelle. Pour notre clientèle féminine notre gamme vient s'enrichir du VTC SCOTT SPORTSTER 40 LADY ET SUB CROSS 40 LADY.
Les MOUNTAIN BIKES and VTC SCOTT mettent l'accent sur le confort et l'aspect pratique pour vous accompagner dans tous vos déplacements. Equipés d'une fourche blocable les MOUNTAIN BIKES and VTC SCOTT sont parfaitement équipé pour vous emmener partout. Semi-rigides ils sont conçus pour être léger,efficaces et dotés de freins à disque à l'avant et à l'arrière. Les VTC seront parfaits pour vos trajets routiers et les MOUNTAIN BIKES pour des terrains plus accidentés.
Pour la durée de votre séjour ou le temps d'une journée la location de vélos est sans doute la plus belle manière de découvrir le Gulf of Saint Tropez.
If you hire one for long enough, ne passez pas à coté du Chemin des Moulins de Paillas et son point de vue féerique
All our bikes are supplied with : locks, Helmets and kit puncture gratuit, on request.