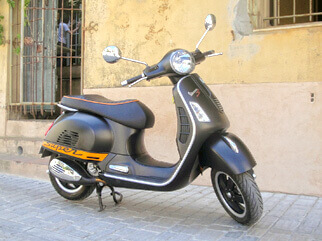 Vente scooters d'occasion :
Rolling Bikes is selling its fleet of rental vehicles. Perfectly maintained and revised, tous nos modelés bénéficient de la manufacturer's warranty. Pensez à réserver au plus tôt pour bénéficier des meilleures affaires ! il n'y en aura pas pour tout le monde !
Rolling Bikes c'est également un large choix d'accessoires à prix malin pour votre scooter : helmets, gants, antivols et consommables.
MARK
MODELS
COLORS
ACCESSORIES
1ère Mise en Circulation
PRICE NEW
hors frais de mise en route
RESALE PRICE €
clés en main
VESPA
GTS SUPERSPORT IE 300
GRIS MAT
Top case VESPA
SUMMER 2016
5 399 + 359 top case

SOLD

PIAGGIO

BEVERLY 300I

GRIS MAT

SUMMER 2016

3 899

SOLD